There are Always lots of Great Local Events and Festivals going on in Dresden. Come Out and Join in on the Fun!
Nov 4 @ 8:00 am – Dec 4 @ 5:00 pm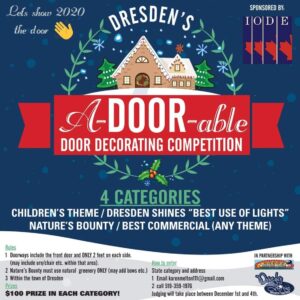 8:00 am
Categories: Children's Theme Dresden Shines (Best Use of Lights) Nature's Bounty (Using Natural Greenery) Best Commercial (Any Theme) Rules: Doorways include the front door and ONLY 2 feet on each side (May include urn/chair...
Nov 5 @ 9:00 am – Nov 27 @ 5:00 pm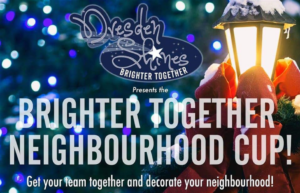 9:00 am
DRESDEN SHINES BRIGHTER TOGETHER NEIGHBOURHOOD CUP! Rules: 1.Participation is open to all personal residences within the boundaries of the Former Town of Dresden, Chatham-Kent. 2. Entry is free, no cost or fees apply. 3.Team...