Lot 46, Survey 127
Located north-east corner of St. George St. and St. John Street.
First documented owner in 1849 was Daniel Van Allen, an early Dresden settler who made several land purchases in this area of town from the original Jared Lindsley settlement. To establish a thriving community Van Allen offered free building lots to individuals who were willing to establish businesses. Many of these failed so ownership changed frequently in the ensuing years.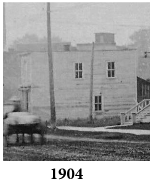 This building pictured was once used by a clothing merchant and later as a dry goods store. In the 1920s it was moved to a north part of the lot where it served 2 uses: a shooting gallery and a shoe repair shop.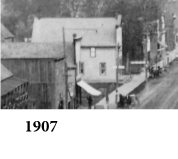 In the late 1800's Asa Chase operated the Anglo-American Hotel which was located across from the Presbyterian Church. It is possible this became Law's Boarding House shown on the west side of St. George Street looking toward the bridge. This business provided living quarters for the family, room for 10 boarders, and meals for people who waited for their grain to be ground or had other business in town. There were also 2 ostlers who looked after horses in the connected livery operation.
In the early 20s, Art Hoyles moved this building from this location diagonally to Survey 127, Lot 46. When it was settled in this new location on the corner of St.John and St. George St. , it was set up with 4 apartments.
In the 40's, Jean and Pat Dunlop operated a hair salon from the lower apartment on the south side.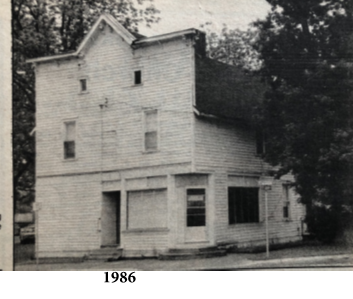 In 1986 it was purchased by Heuvelmans car dealership and demolished to make way for a dealership lot.
In 1987, this declared floodplain land was sold to the St. Clair Conservation Authority and the Town of Dresden as part of a land acquisition programme to mitigate the damage caused by major flooding.
The manicured gardens you see now are maintained by the Dresden & District Horticultural Society.
****Information from a North Kent Leader article penned by Don Spearman in 1986.
***Helen Burns Handwritten History