Neighborhood Cup 2022 Entrants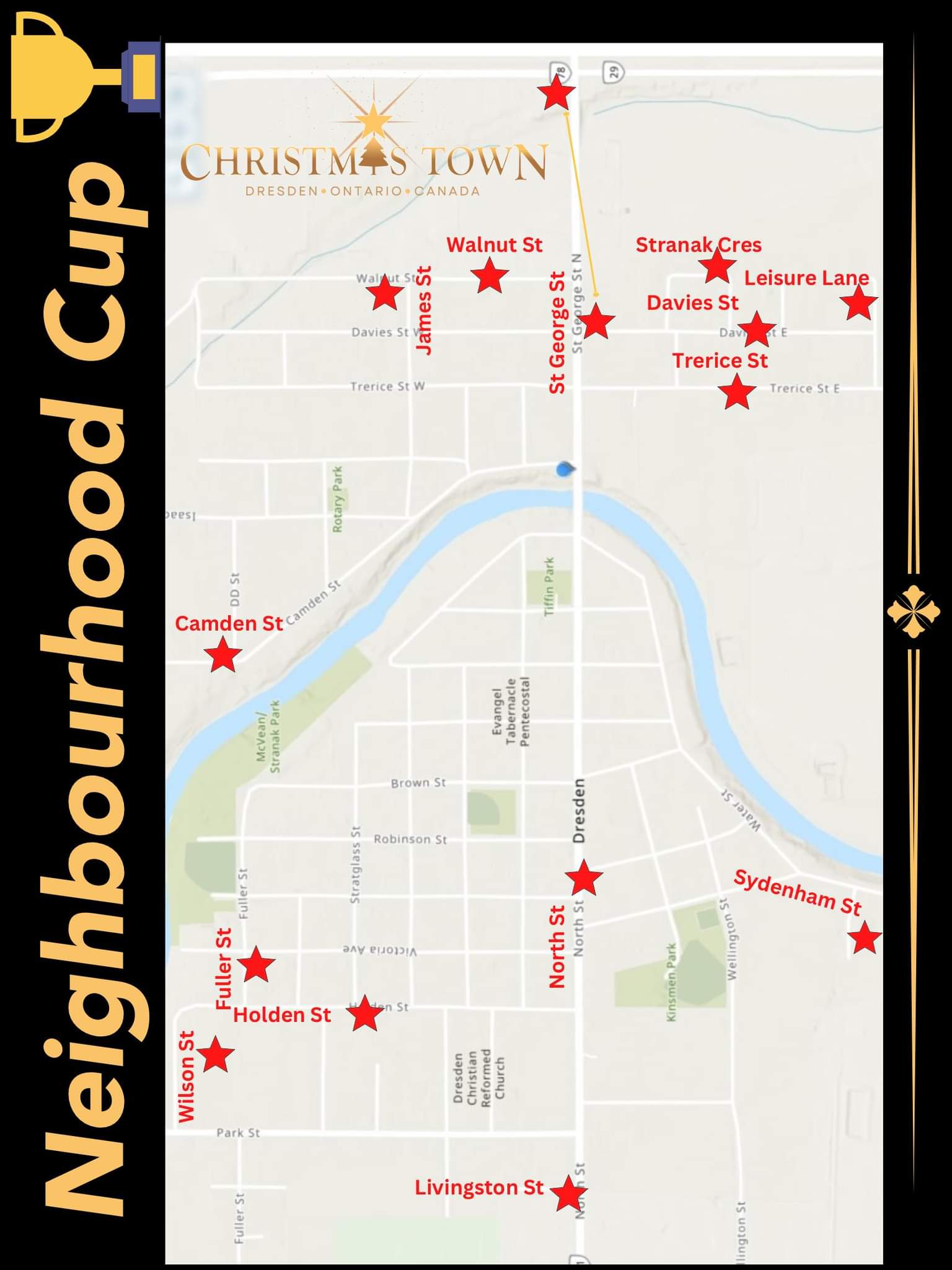 Competition Rules
1. Participation is open to all personal residences within the boundaries of the Former Town of Dresden, Chatham-Kent. Rural entries will be accepted in photo format. All criteria below is applicable to rural entrants.
2. Entry is free, no cost or fees apply.
3. Dresden Team Entry Applications must be received no later than 5 PM on November 25, 2022 either by email to neighbourhoodcup@dresden.ca or drop off at McKellar's Flowers. A minimum of 4 residences must be included on a neighbourhood team. All residences on a team must be on the same street provided that houses on an adjacent cross street may also be included on a neighbourhood team. Team Name must be indicated on the Application Form.
Rural participants must submit their application accompanied by their photo submissions on or before December 1, 2022 by email to neighbourhoodcup@dresden.ca or drop off at McKellar's Flowers. A minimum of 4 residences must be included on a rural neighbourhood team, no limit on rural boundaries.
4. Contest is for exterior decorations only, including decorations in windows that are visible from the exterior. Judging will be done from outside the residence only.

5. Judging will be based on "curb appeal" as viewed from the street only. Therefore only those decorations visible from the street side of the property will be judged (corner lots will be judged from both streets).

6. Judges will not enter the property to view back or side yards.


7. Participants agree to have one or more photos of their decorated residence exterior posted on the Dresden Shines and Explore Dresden Facebook and Instagram Pages, LightUpCK and the dresden.ca website. Participants agree there will be no compensation of any kind for said posting or publication.
8. Judging criteria will include [a] Unique design and creative use of lights and decorations; [b] Storyline or theme; [c] Display and placement of decorations, animated objects, etc.; and [d] Overall presentation.

9. Dresden Judging will be done from 6:00 p.m. to 9:00 p.m. on Thursday, December 1, 2022, Friday, December 2, 2022 or Saturday, December 3, 2022.

10. Dresden Participants should ensure that all lights, animations and decorations are in place and activated for the judging periods on each night.

11. Entry Number Cards will be provided to each participating team house in Dresden. These cards must be displayed in a visible place at each team member's residence where it can be seen by the judges from the street.

12. The Winning Team will be awarded the BRIGHTER TOGETHER NEIGHBOURHOOD CUP. Judges decisions are final.

13. The winning team will be announced on December 8th at the Four Corners Christmas Tree during the Merry & Bright Thursday Nights