Brighter Together Cup: Self Guided Tour
Take the Brighter Together Neighborhood Cup Self Guided Tour to check out all of the awesome neighborhoods that entered the contest!
Winners will be announced soon!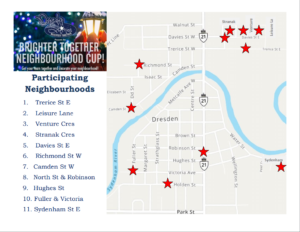 Participating Teams
1. Trerice Street East: Creating Together
2. Leisure Lane: Christmas in the Lane
3. Venture Cres: Venture Shines
4. Stranak Cres: Stars on Stranak
5. Davies St East:  Candy Cane Lane
6. Richmond St:  Richmond's Reindeers
7. Camden St West:  A Camden Christmas Vacation
8. North St & Centre:  Friends the Family We Choose
9. Hughes St: Hughes of Christmas Wonderland
10. Fuller St/Victoria:  A Fuller Victorian Christmas
11. Sydenham St East:  Songs of Sydenham
CONTEST NOW CLOSED TO ENTRIES
Here are the rules the entrants had to follow:
1.Participation is open to all personal residences within the boundaries of the Former Town of Dresden, Chatham-Kent.
2. Entry is free, no cost or fees apply.
3.Team Entry Applications must be received no later than 5 PM on November 27, 2020 either by email to dresdenshines@dresden.ca or drop off at McKellar's Flowers. A minimum of 4 residences must be included on a neighbourhood team. All residences on a team must be on the same street provided that houses on an adjacent cross street may also be included on a neighbourhood team. Team Name must be indicated on the Application Form.
4.Contest is for exterior decorations only, including decorations in windows that are visible from the exterior. Judging will be done from outside the residence only.
5.Judging will be based on "curb appeal" as viewed from the street only. Therefore only those decorations visible from the street side of the property will be judged (corner lots will be judged from both streets).
6.Judges will not enter the property to view back or side yards.
7.Participants agree to have one or more photos of their decorated residence exterior posted on the Dresden Shines and Explore Dresden Facebook and Instagram Pages and the dresden.ca website. Participants agree there will be no compensation of any kind for said posting or publication.
8.Judging criteria will include [a] Unique design and creative use of lights and decorations; [b] Storyline or theme; [c] Display and placement of decorations, animated objects, etc.; and [d] Overall presentation.
9.Judging will be done from 6:00 p.m. to 9:00 p.m. on Tuesday, December 1, 2020, Wednesday, December 2, 2020 or Thursday, December, 2020.
10. Participants should ensure that all lights, animations and decorations are in place and activated for the judging periods on each night.
11. Entry Number Cards will be provided to each participating team. These cards must be displayed in a conspicuous place at each team member's residence where it can be seen by the judges from the street.
12. The Winning Team will be awarded the BRIGHTER TOGETHER NEIGHBOURHOOD CUP. Judges decisions are final.
The winning team will be announced on the Dresden Shines Facebook page by Monday, December 7, 2020.