Welcome to

Dresden!
---


Visit our charming town as Dresden Shines this holiday season!
From an Illumination Tour to a series of socially-distanced activities, and downtown and online shopping, this community is #BrighterTogther.
Find Us on Facebook and Instagram @DresdenShines for more Details
Nov 4 @ 8:00 am – Dec 4 @ 5:00 pm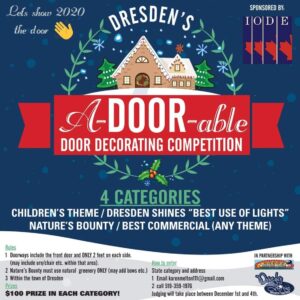 8:00 am
Categories: Children's Theme Dresden Shines (Best Use of Lights) Nature's Bounty (Using Natural Greenery) Best Commercial (Any Theme) Rules: Doorways include the front door and ONLY 2 feet on each side (May include urn/chair...